Gorilla Sanctuary Exploration (UGANDA)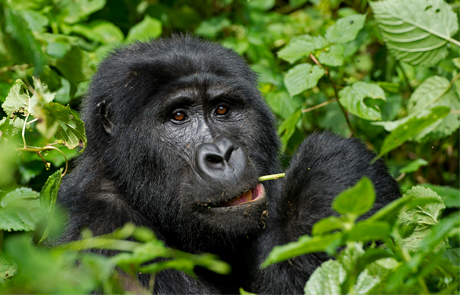 Duration : 8 Days (approx.)
Location: Bwindi, Uganda
Product code : UG-GSEX-AK-17
Day 1 - ARRIVE ENTEBBE
On arrival at Entebbe International airport and after clearing customs and immigration formalities, you will be transferred to the Lake Victoria Serena Resort.
Styled to replicate the lines of a classically rustic Roman villa, which might just as easily stand amid the sunflowers of the Tuscan Hills, as on the shores of Africa's largest lake, Lake Victoria Serena Resort is the latest addition to the Serena East Africa Portfolio. Rising above white-terraced rose gardens, which descend through water cascades and fountains almost to the shores of Lake Victoria, this tranquil resort has been positioned so as to offer both a contrast and an extension to the 5-star profile of the flagship Kampala Serena Hotel, thus ensuring that the Serena portfolio embraces all aspects of Uganda's social and corporate life. A gracious terracotta and cream palace, the central citadel is encircled by broad café and cocktail terraces, where cushioned sofas invite relaxation. Above the marble reception, where a Roman fountain plays, white-arched galleries rise to a clear glass atrium, through which shafts of light illuminate the fountained courtyard below. Beyond the mosaic frescoes of the main restaurant, a clock tower rises above the pool-deck where colonnades of white arches offer the perfect frame for the hazy blue of the lake and the encircling green of the Lweza Hills. Widely spaced amongst the rose gardens, clusters of pastel-painted villas offer a choice of rooms and suites, all with panoramic lake views.
The rest of the day is free to relax or if time permits, enjoy some sightseeing.
Overnight: Lake Victoria Serena Resort
Meal Plan:L,D
Day 2 - ENTEBBE - KIBALE FOREST NATIONAL PARK
After breakfast, begin your drive to Kibale Forest National Park.
Kibale has the highest primate density of any area on earth, including the red-tailed money, blue monkey, olive baboon, chimpanzee, colobus (black, white and red ) and white cheeked mangabey. Other mammals found are bushbuck, red and blue duiker, Uganda kob, Scaly-tailed flying squirrel, tree pangolin, buffalo, waterbuck and hippo as well as a large number of birds. Set against the stunning backdrop of the legendary Mountains of the Moon, Kyaninga is a luxury lodge on the shores of Lake Kyaninga in Western Uganda. Centered around a main house, 8 cottages branch out via raised wooden walkways, each a good distance from the next ensuring utter privacy. The view of the lake from the cottages is stunning!
After lunch there is time to relax before taking a guided walk round Lake Kyaninga.
Overnight: Kyaninga Lodge
Meal Plan: B,L,D
Day 3 - KIBALE FOREST NATIONAL PARK
Chimpanzee tracking excursion is the highlight of visiting Kibale National Park. The habituated chimps are great fun to watch as they squabble and play in fruiting trees. You can expect to see at least two or three other types of primates most probably the grey-cheeked mangabey and red-tailed monkey.
After lunch take a guided walk to the nearby Bigodi Swamp for bird watching. Bigodi Wetland Sanctuary is an important biodiversity area situated at the western edge of Kibale National Park. The swamp is host to over 200 bird species, including the most popular, Great Blue Turaco (Corythaeola Cristata).
Overnight: Kyaninga Lodge
Meal Plan: B,L,D
Day 4 - KIBALE FOREST NATIONAL PARK - ISHASHA
After an early breakfast, take a charter flight to Ishasha. Ishasha is a vast low-lying savannah plain lying south of the equator in the Albertine Rift Valley.
Ishasha Wilderness Camp is situated inside the southern Ishasha sector of Queen Elizabeth National Park on the Ntungwe River. This small and exclusive tented camp offers quality accommodation and services in this unspoilt remote southern sector of Queen Elizabeth National Park famous for its tree climbing lions that can sometimes be spotted resting in the branches of the large fig trees in the area.
After lunch spend the afternoon game viewing, relaxing or exploring the area.
Overnight: Ishasha Wilderness Camp
Meal Plan: B,L,D
Day 5 - ISHASHA
Today go on a game drive in search of the famous tree climbing lions. Ishasha is also home to a variety of wildlife including elephant, lion, hippo, leopard, buffalo, the Uganda kob, baboon, and birds. Bird-watching is particularly good during the summer months (Oct-Nov) for migratory species as well as endemics.
Overnight: Ishasha Wilderness Camp
Meal Plan: B,L,D
Day 6 - ISHASHA - BWINDI IMPENETRABLE NATIONAL PARK
After a leisurely breakfast, begin a 3 hour drive to Bwindi National Park. Arrive at your lodge in time for lunch.
Sanctuary Gorilla Forest Camp is nestled deep inside Bwindi Impenetrable Forest, in Bwindi National Park. The camp is the only accommodation located within the National Park, offering guests an unrivaled location, including the best bird and wildlife viewing in the Bwindi area. Bwindi is host to the highest concentration of primates on earth, including the majestic mountain gorilla, one of the rarest animals on the planet. It is estimated that 65% of the world's surviving population of mountain gorillas, about 460, live within Bwindi's boundaries.
Spend the day relaxing and enjoying an activity of your choice.
Overnight: Gorilla Forest Camp
Meal Plan: B,L,D
Day 7 - BWINDI IMPENETRABLE NATIONAL PARK
After an early breakfast this morning, you will receive a briefing from your gorilla tracking guide. Tracking commences every morning from the park headquarters at 8.30 am.The gorillas you will track belong to one of the 'habituated' family groups in Northern Bwindi. For several years each group has undergone an extremely delicate process that has gradually made them used to the presence of humans. Experienced guides will accompany the tracking, many of who have been involved in the habituation process themselves. Once the gorillas are located, the group will be allowed a maximum of one hour with them. A look into the deep and expressive brown eyes of these giants is surely one of the most unforgettable wildlife encounters that Africa has to offer.
Overnight: Gorilla Forest Camp
Meal Plan: B,L,D
Day 8 - BWINDI IMPENETRABLE NATIONAL PARK
Bwindi is also home to the Batwa Pygmies, who are the oldest inhabitants of the Great Lakes region of Central Africa. These hunter gatherers, whose existence was first recorded over 4000 years ago, have a rich, deep culture and history that they are very happy to share. A visit to their community is a unique cultural experience unlike any other and will assist in helping conserve their community and way of life.
Or you could take a bird walk. Bwindi boasts over 300 bird species, including 24 that are endemic to these highlands straddling Uganda, Rwanda and the Congo – the "Albertine Rift Endemics". There are also over 200 species of butterflies found in the park. A local expert will guide you on this fascinating walk.
Overnight: Gorilla Forest Camp
Meal Plan:B,L,D
Day 9 - ENTEBBE AND DEPARTURE
After breakfast, take a charter flight to Kayonza airstrip and later a flight to Entebbe in time for your international flight.
Meal Plan: B
Permits:
Gorilla Trekking Permit From $600 Per Person
Chimpanzee Permit From $150 Per Person
Internal Lite Aircraft Services:
EBB – Kibale From $405 Per Person
Bwindi – EBB From $405 Per Person
Terms & Conditions

The tour price includes the following services.
·Meet, Greet and airport transfers by your local guides
·Accommodation at the hotels, game lodges or rest camps specified in the itinerary, on the basis of two persons sharing a twin-bedded room with en suite bathroom, or shower / toilets.
·Meals from day two to the end of the scheduled safari and a reasonable amount of drinks.
·Transportation by 4X4 specially designed safari vehicle, with qualified driver, for all journeys specified.
·Activities (game drives, swamp walk/crater walk/community walk in Kibale), National park fees, Entrance fees, for sightseeing excursions specified.
·English Speaking tour guide
·Full Pre-departure and final documentation with detailed "Guide to Planning your African Safari".
Services Not Included:
·All airfare or airport taxes, quoted separately
·Items of a personal nature, such as laundry, telephone calls, room service, premium imported brand beverages, personal purchases, optional extra activities, etc.
·Dinner and drinks on arrival.
·Gorilla tracking permits (each trek requires its own permit; i.e. 1 trek, 1 permit / 2 treks, 2 permits)
·Gratuities to tour guides, drivers and restaurant staff for services rendered.
·Entry Visa with fees and fluctuations in VAT or other taxes beyond our control.
·Any other services not specified above.
·Compulsory Travelers insurance and cancellation protection.
Group Size – Min 2 / Max 8
Age Limits – Minimum of 15 years for Gorilla Trekking.
Deposit and Booking Requirements
·This quotation is subject to the availability of all services at the time of making a reservation.
·Travel insurance coverage for injury, illness or loss of effects while on tour is NOT included, is highly recommended for travel and compulsory for many lodges and adventure safaris in Southern and Eastern Africa.
·Registration: A 25% deposit of the total land price, per person is required. The remainder of the cost is due 60 days prior to departure date. Airline tickets must be purchased within two weeks of reservation confirmation.
·Payment is accepted by personal check, company check or credit card.

·Reservation Policy: All tariffs quoted include VAT and current grading levy. The price quoted is subject to change in the event of any unforeseen increases in fuel costs including currency fluctuations and/or Government levies/taxes, including Park Fees and Entrance fees. Safariline reserves the right to amend the quoted tariffs accordingly should the Government change the percentage level of VAT or introduce any other tax or Levy. Safariline will not cancel a tour, holiday or other travel arrangement once the client has paid in full unless it becomes necessary to do so as a result of hostilities, war or threat of war, civil strife, industrial dispute, terrorist unrest, active or threatened natural or nuclear disaster, fire or adverse weather conditions or if a group tour does not have a minimum required participants, or for any other adverse event beyond the control of Safariline. In the event of cancellation Safariline will inform the client without delay and will make every effort to offer a suitable and comparable alternative
·Cancellations: Cancellations received more than 60 days prior to departure will be subject to the nonrefundable $500.00 per person fee plus any charge incurred by the hotels, ground handlers or operators up to the
Entire deposit of 25% of the total trip costs

Between 60-30 days prior to the scheduled departure date ................. 50% of total trip costs
During the last 30 days including the scheduled departure date:.. 100% of the total trip costs
Travel Insurance
Safariline is pleased to offer a Travel Protection plan designed as an exclusive insurance plan to provide broad protection. The plan protects you and your travel investment if you need to cancel your trip for covered reasons prior to departure or if other covered unforeseen circumstances arise during your trip. This comprehensive insurance package provides pre-Departure trip cancellation, Post departure Trip interruption, Trip delay (8 hours or more), Medical Expense/Emergency Assistance, Accidental Death & Dismemberment, baggage and personal effects and baggage delay.
For premium costs and coverage descriptions please see our website http://www.safariline.net, home page under "Destinations" lower right side of home page – click on the blue button "Relax & Buy Trip Insurance. Or, contact us to provide a quotation.