Luxury Machame Kilimanjaro Climb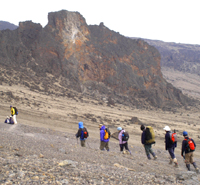 Kesto: 9 Päivät (noin)
Paikka: Tanzania
Tuotekoodi: TZ-KCM-HS-18
Day 1 - ARUSHA
Whenever you arrive, you'll be personally met and transferred to the Rivertrees Country Inn just outside Arusha city and in lovely quite gardens and by the Usa River, in the foothills of Mt. Meru, Africa's 5th highest mountain. Those arriving specially early can book optional activities. Then, spend the afternoon with your mountain guide preparing for the climb.

Day 2 - FOREST
Morning transfer to the Machame climb where the track begins. The day is spent walking to Machame Hut through the mountain's lush lower rain forest. Depending upon weather conditions, this can be a moderate to demanding day's work. Camp is pitched at around 3000m.

Days 3 - SHIRA
Rising early you cross a valley and a stream and then climb up a steep ridge for 3-4 hours. The path then drops into a river gorge before ascending more gently onto the moorland of the Shira Plateau, one of the most fascinating areas of the Mountain. Camp is placed near the Shira Hut at 3840m.

Day 4 - KILIMANJARO - BARRANCO
Today you walk for 5-6 hours enjoying sightings of the typical Kilimanjaro mountain vegetation (Senecios, Lobelia, Helichrysum) and reaching a high point of around 4600m before descending for the rest of the day. On clear days the Lava Tower can be seen as well as some distinct glaciers. These glaciers are shrinking as world temperatures increase. It is speculated that in a mere 15 years many of these glaciers will disappear, forever. The path down to the Barranco Valley can be particularly rewarding and the view of Kibo peak is truly spectacular. In the evening the blanket of cloud often hangs just below the valley, pulsating in the dying light. Camp is pitched in the Barranco Valley at around 3950m.

Day 5 - KARANGA
Today you ascend the Barranco wall, then walk across scree and ridges into the Karanga valley (4100m) with breathtaking views of the Western Breach and the southern glacier. You arrive in time for lunch in camp and then have plenty of time to relax and even go for a short acclimatisation walk.

Day 6 - BARAFU
From Karanga we head up a morraine ridge taking our time and going slowly. The views here can be spectacular on the southern glaciers and of the glacial valleys that snake their way down the mountain. The final stage to Barafu is quite steep, and as always we take it very slowly. As with the day before you reach camp by around lunch time leaving lots of time to prepare and relax. In the evening your guide briefs you for the final ascent.

Day 7 - SUMMIT - MWEKA
The attempt on the summit occurs at night in the very early morning. Each climber is assigned a summit guide to ensure that everyone makes it to the top, or returns as required in complete safety. The going is slow, and often quite frustrating on the scree, but persistence and patience ensure steady progress. Near the summit you pass through the gap between the Ratzel and Rebmann glaciers. At Stella point you can then choose to return - you are after all already higher than any point in Africa! Otherwise, continue to Uhuru peak (5896m). Despite the distance being relatively short, progress is slow - there is less than half the oxygen than at sea level! Uhuru Peak provides a unique satisfaction and usually releases a plethora of emotions. If progress is good you can watch the sunrise from the rooftop of Africa. Most people then start returning quite soon after sunrise as the return journey today is quite long. Camp is pitched at Mweka at around 3100m.

Day 8 - ARUSHA
The final descent takes you through the lower heath section that quickly turns into rainforest. Your time on Kilimanjaro ends at Mweka Gate where your landrover will be waiting to transfer you back to your evening's dinner and overnight at the Rivertrees Country Inn. You may now relax, take a hot shower or even relax by the pool! Enjoy a wonderful celebration dinner!

Day 9 - DEPART
You will be privately transferred to Kilimanjaro or Arusha airports for your departure. But don't go yet ! Consider our Taste of Tanzania itinerary.
Departure dates: 2018
18 January, 25 February, 25 March, 22 April, 20 May, 1 July, 12 August, 9 September, 7 October, 4 November, 3 December
Terms & Conditions
The tour price includes the following services.
Meet, Greet and transfers by your local guides
Accommodation at the hotels, game lodges or rest
camps specified in the itinerary, on the basis of two persons sharing a twin-bedded room with en suite bathroom, or shower / toilets.
All meals except for breakfast in Arusha throughout the scheduled safari.
Activities, National park fees & taxes, all sightseeing excursions as specified.
Most Equipment including oxygen for safety purposes – a full listing provided at deposit.
AMREF flying doctors insurance
English Speaking tour guide, Mountain Crew & staff, back-up and logistical support team
Full Pre-departure and final documentation with detailed "Guide to Planning your African Safari".
Services Not Included:
International airfare, departure taxes, fuel surcharges, or airport taxes, quoted separately
Items of a personal nature, such as laundry, telephone calls, room service, alcoholic beverages, personal purchases, optional extra activities, etc.
Breakfast & Drinks in Arusha
Gratuities to tour guides, drivers and restaurant staff for services rendered.
Any other services not specified above.
Any sightseeing or activities not specified in the itinerary.
Compulsory Travelers insurance and cancellation protection.
Tourist visa fees and services
Group Size – Min 2 / Max 8
Age Limits – Minimum age requirements and any other age restrictions on request.
Deposit and Booking Requirements
This quotation is subject to the availability of all services at the time of making a reservation.
Travel insurance coverage for injury, illness or loss of effects while on tour is NOT included, is highly recommended for travel and compulsory for many lodges and adventure safaris in Southern and Eastern Africa.
Registration: A 25% deposit of the total land price, per person is required. The remainder of the cost is due 60 days prior to departure date. Airline tickets must be purchased within two weeks of reservation confirmation.
Payment is accepted by personal check, company check or credit card.
Reservation Policy: All tariffs quoted include VAT and current grading levy. The price quoted is subject to change in the event of any unforeseen increases in fuel costs including currency fluctuations and/or Government levies/taxes, including Park Fees and Entrance fees. Safariline reserves the right to amend the quoted tariffs accordingly should the Government change the percentage level of VAT or introduce any other tax or Levy. Safariline will not cancel a tour, holiday or other travel arrangement once the client has paid in full unless it becomes necessary to do so as a result of hostilities, war or threat of war, civil strife, industrial dispute, terrorist unrest, active or threatened natural or nuclear disaster, fire or adverse weather conditions or if a group tour does not have a minimum required participants, or for any other adverse event beyond the control of Safariline. In the event of cancellation Safariline will inform the client without delay and will make every effort to offer a suitable and comparable alternative
Cancellations: Cancellations received more than 60 days prior to departure will be subject to the nonrefundable $500.00 per person fee plus any charged incurred by the hotels, ground handlers or operators up to
the entire deposit of , 25% of the total trip costs
Between 60-30 days prior to the scheduled departure date ............... 50% of total trip costs
During the last 30 days including the scheduled departure date: 100% of the total trip costs
Travel Insurance
Safariline is pleased to offer a Travel Protection plan designed as an exclusive insurance plan to provide broad protection. The plan protects you and your travel investment if you need to cancel your trip for covered reasons prior to departure or if other covered unforeseen circumstances arise during your trip. This comprehensive insurance package provides pre-Departure trip cancellation, Post departure Trip interruption, Trip delay (8 hours or more), Medical Expense/Emergency Assistance, Accidental Death & Dismemberment, baggage and personal effects and baggage delay.
For premium costs and coverage descriptions please see our website http://www.safariline.net, home page under "Destinations" lower right side of home page – click on the blue button "Relax & Buy Trip Insurance. Or, contact us to provide a quotation.