Giants of Botswana & Wilds of South Africa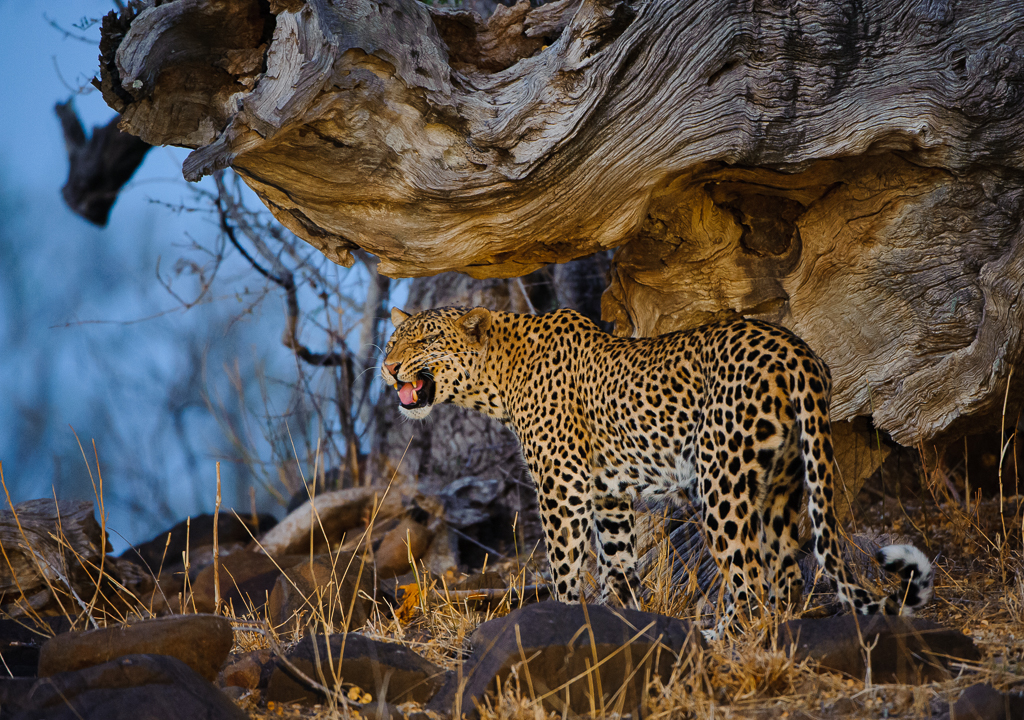 Duration: 8 Days (approx.)
Product code: BOSA-GBWSA-JD-18
Great for families, hikers, mountain bikers, horseback riders and even archaeological adventurers. This safari offers exquisite game, varied terrain, stark beauty and endless savannah. Mashatu, in the Tuli Block of Southern Botswana provides an abundance of Giant elephant herds, black manned lions, roaming cheetah on the savannah and prolific plains game with a personalized wildlife experience from expert guides. Combined with the wildlife gem of Mala Mala Private reserve in the Sabi Sands offers a diverse and exciting safari adventure.
~ Detailed Itinerary ~
Day 1-4 – 4: Mashatu Game Reserve

Accommodations: Mashatu Lodge (Main Camp)
Arrival-Polkwane/Mashatu. Depart from Johannesburg on a lite aircraft flight to the Limpopo Valley Airstrip and Mashatu Private Game Reserve.
Located in Botswanas Northern Tuli Game Reserve, Mashatu Game Reserve is the largest private concession in southern Africa at a massive 25 000 hectares and 40% of the Northern Tuli Game Reserve. It shares unfenced borers with botht he South African and Zimbabwean National parks and this vast area forms part of a cross boundary wildlife conservation area protecting the substantial biodiversity of fauna and flora in this region.
Mashatu is the embodiment of all that defines wilderness in Africa – vast open space, an array of wildlife large and small, majestic skies and plenty of adventure. In addition to game drives in open 4-wheel drive safari vehicles conducted by experienced rangers and trackers you can enjoy horseback safaris, cycling safaris and walks in the wild. Enjoy Game drives, , and other adventure activities, including walking, horse and cycling safaris*. With a wide ecological diversity, Mashatu hosts three members of the Big Five – leopard, lion and elephant – as well as aardwolf, bat-eared fox, African wild cat, honey badger and black-backed jackal.
Mashatu is home to over 1000 elephant and these creatures have created a myriad trails across the reserve which forms the trails for much of our adventure tourism. The elephant use these trails to access water, food and shade and they are invariably well worn, smooth and perfectly maintained. Because the herds of elephant on Mashatu are breeding herds and therefore young calves are invariably present in the herds, these elephant trails tend to meander around obstacles making it much easier for the elephant youngsters and the adventurers amongst the Mashatu guests.
Mashatu Lodge (Main Camp)
Situated on the eastern fringes of the Kalahari Desert where water is its most precious resource, the sighting of the Mashatu camps in close proximity to water, and in thickets of vegetation, automatically locates the visitor into an enclave populated by birds and animals with the camp among the undulating and seemingly endless plains of the wild. Burning torches at the camp's entrance lure safari-goers home where they experience the embodiment of sublime hospitality.
Each of the air-conditioned suites at Mashatu Lodge (Main Camp) is tastefully decorated and includes impressive black and white prints of Africa's most beautiful animals. A double bed and an extra-large single bed, together with a seating area that includes a single day bed, comfortably accommodates families with younger children. The ample en-suite bathroom with both bath and shower facilities and a separate W.C. complete the well-appointed suites luxury suites lie along the camp's perimeter and are designed to allow absolute privacy and a communion with the bush and its inhabitants.
Activities for the next four days include Game drives in open landrovers with your ranger and tracker team. Mashatu is home to no less than seven of Africa's "giants" – the African elephant, the lion, giraffe, the baobab tree, the eland, ostrich and the kori bustard. It is therefore fitting that these giants have a massive habitat, and some 29 000 hectares (72 000 acres) of pristine game land have been set aside as a refuge for these creatures.
Days 5 – 7 Sabi Sands Wildtuin, South Africa
Accommodations: Mala Mala Main Camp, Mala Mala Private Game Reserve
This morning following breakfast and morning activity depart from the lodge for the Tuli Airstrip and your private lite aircraft flight "the Malatu Express" the charter flight is conducted in a Cessna Grand Caravan – a single engine, un-pressurized turboprop aircraft. Clear customs at Polokwane before continuing to the private airstrip at Mala Mala Game Reserve arriving this afternoon in time for afternoon tea and your game drive.
Here meet your ranger, who will share their wealth of knowledge as they introduce you to the game reserve's diverse wildlife, prolific bird species and unique vegetation. Experience a night drive that brings you closer to the magic of the nocturnal wildlife for the next three nights.
Mala Mala Game Reserve is the jewel in the Big 5 reserves on the western side of the Kruger Park in South Africa. It is not if you see the Big 5 but when you see them on a three night stay. The largest of the private reserves in the Sabi Sand Reserve, it is also blessed with the finest tract of land bounded to the west by the perennial Sand River and to the east by an unfenced 19km (12 mile) boundary with the Kruger Park. MalaMala Game Reserve is the Safari Industry's blueprint to the luxury photographic safari. In existence since 1927, this massive thriving tract of land produces the most exciting wildlife experience this side of the equator.
For over four decades, Michael Rattray has remained focused on his objective to preserve and protect the land over which he is custodian. Allowing nature to move to its innate rhythm, guests experience today what the forefathers of the African Safari would have experienced at the turn of the century.
MalaMala Main Camp
This is the oldest and most historical private game reserve in South Africa and the first to make the transition from hunting to photographic safari's. It is the blueprint on which the South African safari industry was built. Every aspect of the MalaMala Main Camp is designed to appreciate and enjoy the view of the surrounding wilds. Pathways wind their way along the perimeter of the camp to reveal individual ochre colored units tucked into the greenery which flanks the Sand River. Massive trees and rolling green lawns are filled with birdsong, with the occasional antelope or elephant which
seeks the succulence of greenery. The camp is unfenced - an oasis in the middle of the bushveld.
On arrival at the camps within the reserve, guests are introduced to their ranger who acts as host, guide and educator. While an itinerary is suggested (as detailed below) to take advantage of the more comfortable temperature ranges and the enhanced game viewing opportunities, it is also important to have time to relax and enjoy the camp surroundings, and to immerse oneself in the environment. Game drives are conducted in open 4-wheel drive safari vehicles in the 40,000 acre private reserve. The rangers are in constant radio communication with one another to keep each other informed about the location of wildlife. Headsets are used for this purpose so as not to interrupt the sounds of the African bush. The 4-wheel drive safari vehicles enable the rangers to leave the road and provide guests with close up game viewing and fantastic photographic opportunities. Night drives, with the aid of powerful spotlights, bring the bush to life at night.
The suggested itineraries are not set in stone. Guests are encouraged to discuss their preferences with their ranger on arrival, and all possible will be done to accommodate them within the confines of the camp routine, and with consideration to safari companions sharing the same ranger and vehicle (although not all requests are possible or advisable). A later departure may be arranged from the camp to meet up with the early morning drive for those who are not enamored with an early morning wake up call.
Day 8 – Skukuza / Departure
Take a last morning game drive before having breakfast and departing for the Skukuza Airstrip. Tour Ends.
Tour valid for travel from 01Apr - 30Nov 2018

Terms & Conditions
* LUGGAGE NOTE: All luggage must be in soft sided bags and no more than 15 kilograms.
The tour price includes the following services.
Meet,Greet and airport transfers by your local guides
Accommodation at the hotels, game lodges or rest camps specified in the itinerary, on the basis of two persons sharing a twin-bedded room with en suite bathroom, or shower / toilets.
Meals from arrival on Day one to the end of the scheduled safari and a reasonable amount of drinks.
Transportation by 4X4 specially designed safari vehicle, with qualified driver, for all journeys specified and hired mini bus for transfers between Amalinda, Khulu, and Victoria Falls.
Game drives at Mashatu and twice daily Activities at Mala Mala Main Camp, National Park fees, for sightseeing excursions specified.
English Speaking tour guide
Full Pre-departure and final documentation with detailed "Guide to Planning your African Safari".
Services Not Included:
International airfare or airport taxes, quoted separately
Items of a personal nature, such as laundry, telephone calls, room service, premium imported brand beverages, personal purchases, optional extra activities, etc.
Adventure Activities at Mashatu Lodge
Gratuities to tour guides, drivers and restaurant staff for services rendered.
Any other services not specified above.
Compulsory Travelers insurance and cancellation protection.
Group Size – Min 2
Age Limits – Children under the age of two years will be accommodated free of charge when sharing a room with other paying guests. Children aged 12 years or older will be charged adult rates. Children 3-11 pay 50% of adult rate if sharing with an adult. If 2 children require their own room and are under 12, one pays full adult rate and one pays 50%. At Mashatu, children under five years of age are not permitted to dine in the boma or to be taken on game drives, unless their parents have reserved sole-use of their vehicle.
Deposit and Booking Requirements
This quotation is subject to the availability of all services at the time of making a reservation.
Travel insurance coverage for injury, illness or loss of effects while on tour is NOT included, is highly recommended for travel and compulsory for many lodges and adventure safaris in Southern and Eastern Africa.
Registration: A 25% deposit of the total land price, per person is required. The remainder of the cost is due 75 days prior to departure date.
Airline tickets must be purchased within two weeks of reservation confirmation.
Payment is accepted by personal check, company check or credit card
Reservation Policy: All tariffs quoted include VAT and current grading levy. The price quoted is subject to change in the event of any unforeseen increases in fuel costs including currency fluctuations and/or Government levies/taxes, including Park Fees and Entrance fees. Safariline reserves the right to amend the quoted tariffs accordingly should the Government change the percentage level of VAT or introduce any other tax or Levy. Safariline will not cancel a tour, holiday or other travel arrangement once the client has paid in full unless it becomes necessary to do so as a result of hostilities, war or threat of war, civil strife, industrial dispute, terrorist unrest, active or threatened natural or nuclear disaster, fire or adverse weather conditions or if a group tour does not have a minimum required participants, or for any other adverse event beyond the control of Safariline. In the event of cancellation Safariline will inform the client without delay and will make every effort to offer a suitable and comparable alternative
Cancellations: Cancellations received more than 75 days prior to departure will be subject to the nonrefundable $500.00 per person fee plus any charge incurred by the hotels, ground handlers or operators up to the
entire deposit of 25% of the total trip costs
Between 75-30 days prior to the scheduled departure date ................. 50% of total trip costs
During the last 30 days including the scheduled departure date:.. 100% of the total trip costs
Travel Insurance
Safariline is pleased to offer a Travel Protection plan designed as an exclusive insurance plan to provide broad protection. The plan protects you and your travel investment if you need to cancel your trip for covered reasons prior to departure or if other covered unforeseen circumstances arise during your trip. This comprehensive insurance package provides pre-departure trip cancellation, Post departure Trip interruption, Trip delay (8 hours or more), Medical Expense/Emergency Assistance, Accidental Death & Dismemberment, baggage and personal effects and baggage delay.
For premium costs and coverage descriptions please see our website http://www.safariline.net, home page under "Destinations" lower right side of home page – click on the blue button "Relax & Buy Trip Insurance. Or, contact us to provide a quotation.